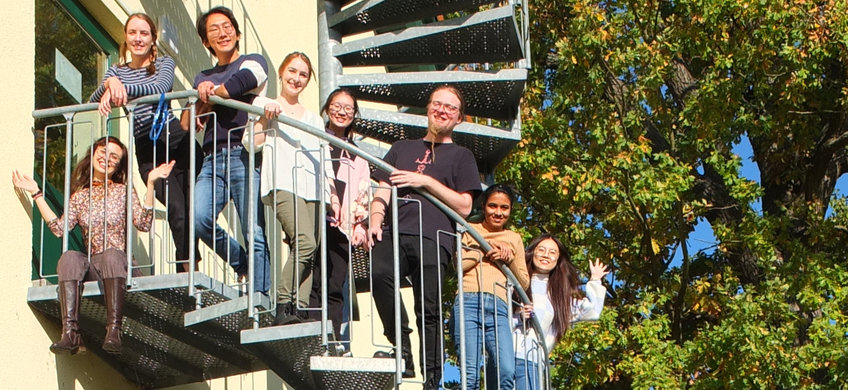 IMPRS and PhD Programme
University graduates who are interested in modern plant research can work on their doctorate at our institute. Our doctoral programme is open to students from all countries. The doctoral research is done under the guidance of our directors, group leaders and senior scientists. We work closely with the Faculty of Science at the University of Potsdam where most of our doctoral researchers are registered and enrolled during their doctorate. The doctoral thesis is submitted and defended at the University, which also confers the doctoral degree.
Join the IMPRS-PMPG!
We are now inviting applications for PhD positions starting in second half of 2022.
Find out how to apply @ IMPRS Application
Apply by 23 January 2022, midnight CET.
Doctoral Research at the MPI-MP
There are about 80 students from about 15 different countries worldwide who are currently working on a full doctoral research project at the Max Planck Institute of Molecular Plant Physiology. In addition, we host several guest PhD students every year who are doing part of their doctoral research in one of our groups.
Graduate students choose our institute for their doctoral research because of:
their enthusiam and interest in modern plant science encompassing experimental, bioinformatic and theoretical approaches.
top scientists who do cutting-edge research with state-of-the-art facilities and resources.
our doctoral training and support programme including PhD advisory committees, lectures and courses.
our lively international scientific environment close to Germany's capital, Berlin.
How to join us as a doctoral researcher
If you wish to do research at our institute for a full doctorate there are different possibilities of how you can join us.
You apply for a project offered by one of our research groups. >> These are advertised on our Job Offers page.
If you would like to apply outside our doctoral programmes, the IMPRS-PMPG or MelPoPP, have a regular look at our Job Offers. Even if there are no doctoral positions on offer, you can send us your application. Please send your application to our human resources team, clearly describing your research background and interests and naming the research groups you would like to work with. To make initial contact with one of our research groups, please contact our human resources team as well, clearly stating the research group and name of the group leader.
You apply for your own scholarship or funding, for example from your home country, the DAAD (German Academic Exchange Service), or other grant-giving institutions. >> Establish contact with a research group leader who can be your supervisor and host during your doctorate.
You know best what scholarships opportunities for a doctorate abroad are on offer in your home country and when the application calls and deadlines are. Inform yourself about the research done in our research groups and establish contact with those group leaders whose research fits with your interest and backgrouund. Show your interest in their research and let them know specifically why you would like to apply for your own scholarship to join their group. Important: Establish contact well before the application deadline. It takes time to find out if your and the group leader's interests match, and then write the application for a scholarship.
You apply for our doctoral programme, the International Max Planck Research School 'Primary Metabolism and Plant Growth' (IMPRS-PMPG). >> The yearly application call will be announced here.
Are you interested in pursuing your doctorate within the IMPRS-PMPG? Then look out for our yearly application call! The application portal is usually open in December and January and application deadlines are announced on this page. You can learn more about the IMPRS all year round by exploring the links in the navigation panel on the left hand side of this page.
In all cases, you should first inform yourself about the research that we do. This is important so that you can (a) decide if your interests and background fit with our research areas and questions, and (b) approach the group leaders whose interest if of research to you in a specific manner. Information about our institute and research groups can be found if you explore the links in the navigation panel on the top of this page.
If you have any questions about the IMPRS-PMPG or joining our institute as doctoral researcher in general, please feel free to contact the Doctoral Programme Coordinator, Ina Talke.
Doctoral training and support
All graduate students at the MPI-MP
carry out their doctoral research in one of our research groups, under the guidance and supervision of the group leader.
have a PhD advisory committee (PAC), which is an independent panel comprising 2-3 scientists who give advice and guidance, and monitor the progress of the research project at regular intervals.
give yearly presentations at the MPI-MP's weekly Progress Seminar, and write a report on their project after year 1 and 2.
attend seminars, lectures and courses, and are encouraged to present their results at conferences.
Doctoral training at the MPI-MP is organized in the frame of the IMPRS. All our graduate students - IMPRS members or not - can participate in the graduate training activities and courses as much as possible. For transferable skills training, we collaborate closely with the Potsdam Graduate School. Every two years, our doctoral researchers organize the 'Plants and People' Conference - an exciting scientific event and a great possibility to hone your organization skills if you join the organizing committee!
The doctoral researchers at the MPI-MP, including IMPRS students, are represented by the PhD representatives. The PhD representatives organize events and transferable skills training for all graduate students at the MPI-MP. All doctoral researchers in the Max Planck Society are organized within the PhDnet.
The great majority of our doctoral researchers are registered as doctoral candidates with the Faculty of Science at the University of Potsdam. Advice and support on administrative questions regarding the University of Potsdam, for example on how to register as doctoral candidate with the Faculty of Science and enrol as doctoral student with the University, is offered by the Doctoral Programme Coordinator, Ina Talke. If you would like to learn more about campus life, funding and tuition, have a look at our FAQ page.