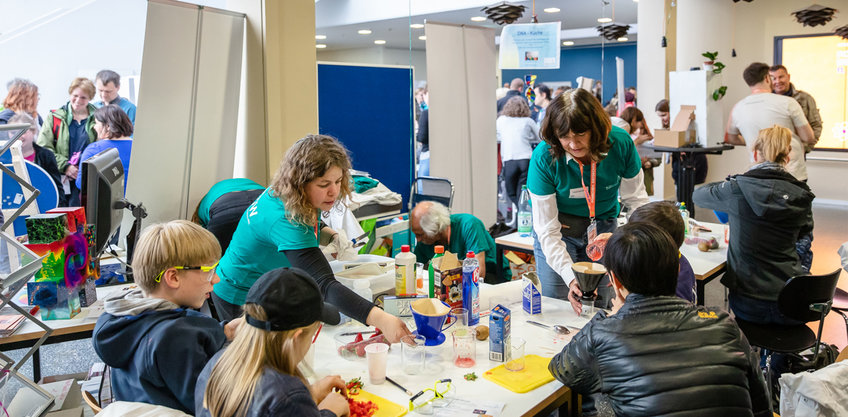 Events
Those who want to visit the Max Planck Institute of Molecular Plant Physiology and want to learn more about the research at the institute can do so in various ways. The institute takes part in a number of events every year and also organizes events itself.
Open Day
The MPI-MP organizes an open day together with its neighboring institutes every two years. There is a varied program with lectures, guided tours, and a large area for hands-on activities where children can slip into the role of a scientist, either in the central building of the Max Planck Institutes or on the premises of the neighboring Fraunhofer Institutes. In addition to spiritual nourishment, the canteen at the location also provides food and drink for the physical well-being.
The next Open Day will take place in September 2022.
Come to the fields
Since 2004 the Max Planck Institute of Molecular Plant Physiology has been organizing, under the motto "Come to the field!", guided tours through the greenhouses and over the open spaces from May to the end of September. Whether school classes, students or the interested public, the content of the tour is adapted to the level of knowledge of the visiting group.
Due to the Corona pandemic we cancelled our tours this year!
Girls' Day - Future Day for boys and girls in Brandenburg
The MPI-MP has been participating for years in Girls' Day and the Brandenburg Future Day for boys and girls. Both events offer young people from grade 7 on the opportunity to get to learn about specific professions. The young people can get an idea of the world of work in companies, craft businesses, universities and other institutions. The Future Day is used by schoolchildren for career and study orientation.
We offer participating pupils a mixture of information about research and practical exercises so that they get the possibility to breathe some laboratory air.
The next Future Day will take place on April 27, 2023.
Potsdam Science Day
Since 2013, a Science Day has been held every year in the city of Potsdam. The event is organized by the ProWissen Association, in which most of the Potsdam and Brandenburg scientific institutions are members. The Association aims to promote science and research and offers the public - supported by its members - different events. The Potsdam Science Day is one of these events. The location rotates between the large science locations in Potsdam, with all of the partners bringing in activities and people. The universities, schools and the Brandenburg research institutions present their everyday work beyond the institute's walls and give exciting and fascinating insights into their current research projects. Scientists from all disciplines report on their work in lectures, exhibitions and experiments on site.
The next Potsdam Science Day will take place on May 7, 2022 at Leibniz Institut für Agrartechnik und Bioökonomie