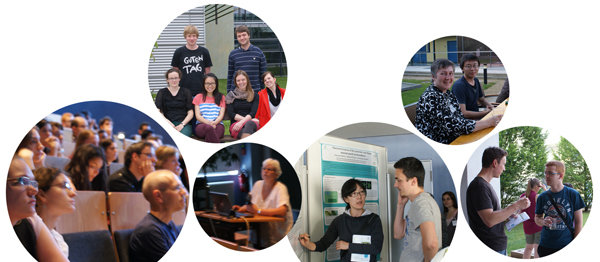 Plants and People Conference
Plants and People Conferences are organized by the PhD students at the Max Planck Institute of Molecular Plant Physiology in Potsdam-Golm and take place every other year.
Our inaugural conference in 2011 established the idea to combine topics in plant science with wider aspects of science and research that are important for young scientists. This is reflected in our unique choice of speakers – we bring together scientists from different areas of science who may not meet at conferences that deal with specific research topics.
Our conference is open to all who are interested. Our primary audience are scientists at the start of their career – PhD students, young postdocs and Master students. Nevertheless, everyone who would like to join a Plants and People conference is invited to attend.
We are happy that after a break we will be holding our 6th Plants and People Conference on September 6th & 7th 2023:
"Exploring Plan(t)s" looks at the diversity and breadth of research topics in the plant sciences and at career paths outside academic research. You can find our speakers and more information on the Plants and People website.
We hope to see you in September 2023 or at future Plants and People conferences!
---
Past Plants and People Conferences:
"(M)PIMP Future Foods - Challenges for Global Food Security"
September 3 - 4, 2019
Focus: Scientific and social aspects of challenges related to food security
"Communicating Science - Connecting Worlds"
September 11 - 12, 2017
Focus: Current topics in (plant) science and science communication
"Future Plan[t]s"
September 7 - 9, 2015
Focus: Recent developments in plant science and the career development of plant scientists
"Challenges in Biology - Big Data and Ethics"
June 18 - 19, 2013
Focus: Current advances in plant biology and ethical issues for plant research
"On Roots and Fruits of Plant Biology"
September 5 - 7, 2011
Focus: Present day applications and history of plant science
---
Havel Spree Colloquium
The Havel Spree Colloquium (HSC) is an annual one-day meeting for PhD students in plant science at research institutions in Berlin and Potsdam. The HSC aims to provide a platform for young scientists to present and discuss their research and to network among peers in a friendly atmosphere. The meeting is organized by PhD students of the different institutions on a rotating basis.
This colloquium has a long-standing tradition. The first HSC took place in 1990, organized by the group of Prof. Jürgen Schmitt at the Freie Universität Berlin. The most recent HSC took place at Freie Universität Berlin in 2019. The 2020 and 2021 colloquia had to be cancelled due to the COVID-19 pandemic.
The PhD students at MPI-MP have organized and hosted the Havel Spree Colloquium in
2016: 10 November
Organizing committee: Anne Bremer, Kevin Schwahn, Corné Swart
2012: 17 January
Organizing committee: Ulrike Glaubitz, Jessica Jüppner, Elisa Schulz
2006: 08 December