Applied Metabolome Analysis
The "Applied Metabolome Analysis" research group of Dr. Joachim Kopka provides gas chromatography-mass spectrometry (GC-MS) based metabolite profiling technologies to scientists of the MPIMP and to cooperating external partner groups.  In 1998 Dr. Joachim Kopka co-initiated the application of the multi-parallel GC-MS based profiling technology in the metabolomic field at the MPI-MP and at the Metanomics GmbH & CoKG.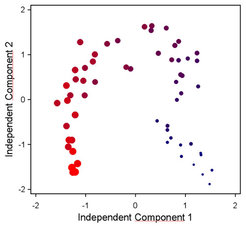 Since 2001 the "Applied Metabolome Analysis" research group of Dr. Kopka has been part of Department 1, Prof. L. Willmitzer, at the MPIMP, in combination with a role as a science infrastructure group. As a consequence of this dual role the research group applies and develops metabolome analysis tools and explores the potential of new bio-analytical tools for applied metabolome analysis. These objectives are pursued with a clear focus on GC-MS based technologies.
You can find more information about the group of Joachim Kopka, their research activities, the group members and publications on the website of Dr. Kopka's research group.