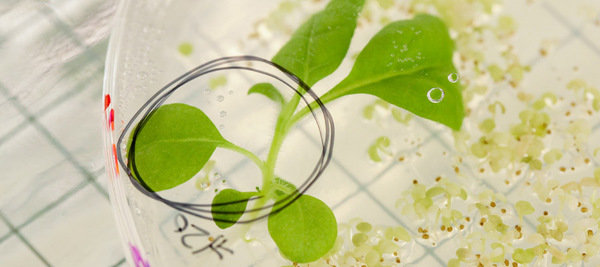 Organelle Biology, Biotechnology and Molecular Ecophysiology
Prof. Ralph Bock and his department focus on plant cell organelles (plastids and mitochondria), their physiology and gene expression as well as their metabolic and genetic interactions with the nucleo-cytosolic compartment.
Transgenic technologies for nuclear and organellar genomes are developed and combined with biochemical and physiological methods to elucidate:
the genetic mechanisms regulating metabolic pathways,
the assembly process of membrane protein complexes and
structure-function relationships within multiprotein complexes in energy-transducing membranes.
Applied research in the department addresses resistance management, metabolic engineering and the production of pharmaceuticals in plants. Other research topics concern the mechanisms of genome evolution in eukaryotes and the genetic and evolutionary processes that underlie the physiological plasticity of plant species, populations and ecosystems.