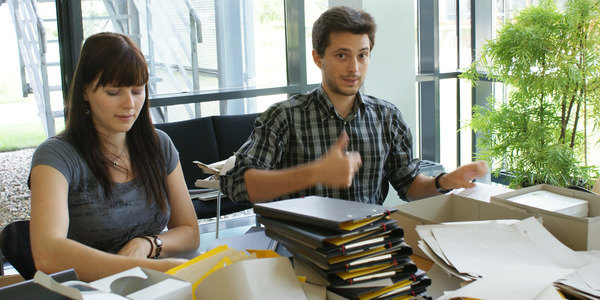 Application for the IMPRS-PMPG:
Requirements and Procedure
The IMPRS-PMPG doctoral programme is open for students from all countries. Once you are accepted into the programme, you will be enrolled as doctoral student at the University of Potsdam.
Below you find information about requirements for the doctoral programme and your application.
Tips...
... for your application:
Applications can be submitted only via the online application form. Please complete the online application in English. Because we can only accept applications that are complete, you should take your time when you fill in the online form. You can click on the online application link and study the application form, our requirements, and questions before you actually begin to complete the form. In addition, have a look at the PDF with tips for filling in the application. You can dowload it from the 'Helpful Hints' box on the right.
The application form must be filled out in one session. Once you begin to fill in the form, you should be prepared to answer all questions in one session and upload your documents at the end. You will not be able to save during this process, so please make sure you have all documents and information at hand. If you close the browser window before clicking on the "submit" button, all entries that you made will be lost.
If you are having problems getting certain documents or have gaps in your CV you should provide us with explanations. Sloppy applications will definitely fail to make it on our shortlist. With your application you show us that you are informed about the research activities of our faculty and that you have knowledge of the respective scientific publications in your field(s) of interest. We have seen applications where the 'research project' essay was prepared so poorly that we could not consider these candidates further! Please make sure that you think carefully about this part of the application and make full use of the permitted space to give us a first impression of your scientific creativity and conceptual understanding. However, please do not try to copy/paste published text pieces, as we will control for plagiarism. Plagiarism will immediately remove your application from further consideration.
Please study the form carefully and take your time when completing it. However, do not wait until the last day of our application period to submit your application.
If you have missed any required fields or have not uploaded the two required documents, you will get error messages after pressing the "submit" button. You can get back to your application by clicking on the "back" button of your browser window.
When you have successfully submitted your application, you will get a screen confiming your submission. Please note down your application number. You will need to use this in all further correspondence with us. You will also receive a confirmation email shortly after you have submitted your application.
Please do not hesitate to contact us if you experience any problems with the online application procedure.
... for the selection workshop:
The selection workshop goes over two days. On the first day, all invited candidates give a short presentation of their previous research - for example from their Masters project. On the second day, you will be interviewed individually by our faculty members. During both days you will have time to meet and discuss with our faculty, members of their research groups and IMPRS students.
Presentation
Ten minutes for a presentation may seem to be short, but we would like to listen to many candidates and thus must impose time constraints. Depending on your scientific background you may not have worked in a field that is related to the research done at our Institute. Your presentation should therefore be clear to an audience that may not be familiar with your topic. It is important that you give a general introduction into the topic and lead the audience carefully through the figures presented. Keep to the time limit! Usually the real presentation takes longer than the rehearsals, and we will have to interrupt you if you need longer. Thus, you may miss the chance to tell your full story. Be well prepared for the discussion since you might get a lot of tough questions, e.g. why you were using certain techniques, what the aim of your project was, what the next steps in the project would be, what kind of further scientific questions would be interesting to address and how you would approach them methodologically etc. Are you (at least in theory) familiar with the methods in the research areas carried out in the groups of the IMPRS faculty? Think about approaches you are familiar with and ask yourself about their potentials and limitations.
Interview
The interview consists of two parts: It usually starts with your summary of the publication that we will have sent to you at least 10 days prior to the workshop. By this, we want to see how well you deal with primary literature. The remaining discussion will be about your background and motivation. At any time during the interview, you can impress us with your knowledge, creative thoughts, and ideas. In addition, it is advisable to be well informed about the research projects of the faculty at the MPI and the University of Potsdam, in particular of the research groups that you named as your three preferences in the application.
We look forward to receiving your application - Good luck!