Sun protection for plants
Plant substances can protect plants against harmful UV radiation
Summer, Heat, Sunburn – An usual combination nowadays. While we are able to protect our skin with sun blocker, plants developed mechanisms to protect themselves against harmful UV radiation. This becomes possible by the production of so-called secondary plant metabolites, which are responsible for several protection mechanisms in plants. Even for humans, those compounds show constitutional characteristics. The research team of Dr. Alisdair Fernie and Dr. Takayuki Tohge at the Max Planck Institute of Molecular Plant Physiology is analyzing this complex group of substances in detail. They characterized the FPT2 gene corresponding to the production of newly found phenylacylated-flavonols, which are able to protect plants against damages by UV radiation. Together with their cooperation partners from Chiba University and RIKEN CSRS in Japan, the research team characterized these substances and the function of related genes in detail and published their results in Nature Communications. 
Plants own several thousands of substances with diverse functions. Those compounds are divided in different groups, including primary metabolites, as sugars and amino acids, and secondary metabolites. The secondary metabolites are characterized by diverse functions, including defense against herbivores, regulation of growth or working as pigments. Secondary plant metabolites are not essential in humans' nutrition, nevertheless they often show effects on the human metabolism. Especially flavonoids and carotenoids are known to show health-promoting action. They work as natural antioxidants and exhibiting anti-inflammatory effects.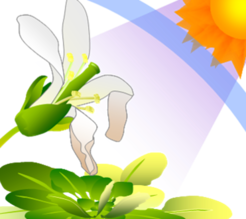 Moreover, secondary metabolites containing aromatic rings can mitigate damage by ultraviolet (UV) radiation in plants. Although, plants rely on sun light for the photosynthesis process, the UV radiation can cause damages in the cells. This includes harmful effects of the genome and of proteins, resulting in mutations or destruction of cell structures. Flowers are particularly sensitive to UV-B light. This has impacts on the reproduction efficiency and could result in decreased yields of crop plants. Due to this permanent pressure, plants evolved protecting agents.
The research team of Dr. Alisdair Fernie and Dr. Takayuki Tohge of the Max Planck Institute of Molecular Plant Physiology started to search for such compounds. For this purpose, the researchers used the plant model thale cress (Arabidopsis thaliana, Brassicaceae). It is one of the most important model plant organisms with a worldwide distribution. Its geographical distribution was the origin of diverse ecotypes with adaptions to their respective habitats. The research team analyzed secondary metabolites in flowers of 64 different Arabidopsis accessions.
First of all, they profiled 68 floral secondary metabolites including 18 so far unknown compounds with similar structures. With the help of their Japanese cooperation partners Prof. Kazuki Saito and Prof. Hiromitsu Takayama, the research team was able to identify the chemical structure of these metabolites and assigned them to the secondary metabolite class of the flavonoid. More precisely, they were assigned to a sub-group of flavonoids – the phenylacylated-flavonols, they named as "saiginols". "We used the old style Japanese saigiru, as it stands for blocking off or disruption. Here we added the "nol" for the group of flavonols", explains Dr. Takayuki Tohge.
Next to the chemical characterization, the researchers aimed to identify first steps of the biosynthesis of saiginols using genome wide studies. They identified a related gene (FPT2) which is responsible for the production of all 18 saiginols. Furthermore, the researchers could demonstrate UV-B absorbing properties of these compounds comparing saiginol producer and non-producer lines. Thus, saiginols were able to enhance protection against UV-B radiation damage in plants. Of particular note was the finding, that only 31 of 64 Arabidopsis ecotypes produce saiginols. By a mapping of the plants according to their site of origin, it was shown that especially plants deriving from high irradiance habitats produce saiginols. The researchers hypothesized that the other 33 non-producing accessions had not been filtrated by natural light selection related to protecting mechanisms against harmful UV radiation by those compounds due to their provenance.
So far, the FPT2 gene was just identified in Arabidopsis. Nevertheless, the researchers found similar gene sequences in the genomic region of close relatives of Arabidopsis (Brassicaceae plants). Further analysis of the FPT2 genomic region will provide an evolutionary framework of the natural history of these genes in Arabidopsis and Brassicaceae plants.
UG