Network and Interchange
At Home…
The MPI-MP maintains close links with the neighbouring University of Potsdam via many joint projects, and by hosting a small number of groups who have full access to the institute's facilities. All three directors are Honorary Professors at the University of Potsdam. Several of the AG-Leaders are involved in teaching and preparing for their habilitation at the University of Potsdam.
Several research groups are joined in collaborative research groupings ("Sonderforschungsbereich") supported by the DFG, or participate in the GABI program, which is financed by the BMBF. Groups also participate in international projects like ERANet, funded by the BMBF, or EU programs.
…and Abroad
In addition to the networks established in the framework of various individual research projects, the institute has established various international co-operations, for example, with the Riken Institute in Japan, the Umea Plant Science Centre in Sweden, the Weizmann Institute of Science and the Hebrew University of Jerusalem in Israel, the Instituto Nacional de Ciencia e Tecnologia do Bioetanol in Brazil, the Boyce Thompson Institute at Cornell University, and The Arabidopsis Information Resource (TAIR) at Stanford in the USA.
Neighbourhood and Surroundings - Bright Minds Next Door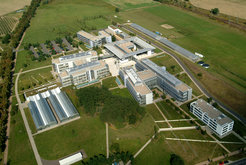 The institute is part of the Science Park Potsdam-Golm. Aside from the MPI-MP, the campus includes two other Max Planck Institutes (Colloids and Interfaces, and Gravitational Physics), two Fraunhofer Institutes (Applied Polymer Research and Biomedical Engineering), a start-up centre called Go:In and the Golm campus of the University of Potsdam. Since the mid-1990s the Potsdam-Golm Science Park has developed in scientific and economic terms into one of the most innovative and promising locations in the state of Brandenburg.
More than 2,500 people are employed at the science park, alongside 7,000 enrolled students in the Faculties of the University of Potsdam that are located in Golm. A professional site management assists the development of the science park through targeted expansion of the infrastructure and combines the strengths and interests of all institutions, institutes, organizations and businesses located at the Science Park. Above all, companies interested in moving into the park and young entrepreneurs benefit not just from the existing networks but can also rely on the experience and support of the park's famous institutes and personalities.
Nature and Outdoors
Great Science, research and business opportunities are not the only attractions of the Potsdam-Golm science park. The location also offers a pleasant working environment on the edge of a nature conservation area, a good quality of life in the cities of Potsdam and Berlin and their surrounding areas. The science park is extremely family-friendly, with a brand new purpose-built child care centre on campus. There are also many cultural, educational and leisure attractions for the whole family, including art exhibitions, various gastronomic establishments, sports facilities and open days.
https://potsdam-sciencepark.de/