Science and Research
The Max Planck Institute of Molecular Plant Physiology (MPI-MP) investigates metabolic and molecular processes in cells, tissues, organs and whole plants. The overall goal is to understand how growth and metabolism are regulated, to learn how they respond to environmental factors, and to unravel genetic factors that underlie these processes and responses. To achieve this, it is not only necessary to understand the functions of individual genes, but also the molecular details of individual processes like the uptake of nutrients, the structure, storage, transport and mobilisation of plant components, and the regulation of individual processes. It is also essential to learn how these different processes interact in networks, and to develop approaches that provide quantitative information and a predictive understanding of these complex networks.
Organisation and Cooperation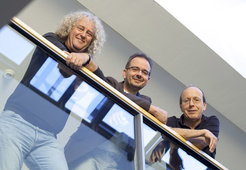 The basic organisational and scientific units are the research groups, known in German as "Arbeitsgruppen" (AGs). Each department possesses several AGs. Beside the Departments there are Infrastructure Groups dealing with Transcript-Profiling, Applied Metabolome Analysis or Bioinformatics, and Service Units like the Green Team and the Microscopy Unit. Three Independent Junior Research Groups, appointed directly by the Max Planck Society, and two Cooperative Research Groups of the University of Potsdam complete the scientific team. Close cooperation is encouraged between all AGs with respect to scientific projects, development of methods, instrumentation and technology platforms, seminars and student supervision.
In addition to the administration team, the institute employs a number of service staff ranging from IT and facility management to public relations.