PSP Conference 2021
PSP Conference 2021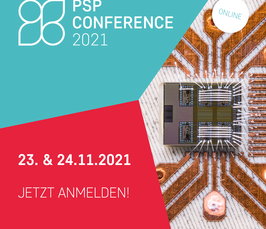 The PSP Conference is the largest forum for cooperation, research innovations and start-ups in the Potsdam Science Park. Look forward to panel discussions on innovation ecosystems, best practice from research and industry as well as pioneering start-ups from the capital region at our annual Startup Pitch Award! New this year: In addition to the livestream on November 23, you will have the opportunity to exchange ideas and connect to new network contacts in 1:1 meetups on the following day.
Nov 23rd — Livestream

Follow this year's PSP Conference 2021 program via livestream! In the four focus blocks — "Innovation Locations & Startup Incubators", "Transfer & Property Rights", "Cooperations & Business", "Foundations & Startups" — experts from research, transfer and business will report on current projects, patents and property rights and offer individual insights into successful cooperations.
The Keynote will be given by Prof. Lothar Willmitzer in the session Innovation-Ecosystems:
From Curiosity Driven Research to Startups – Some Case Examples
Basic research – or better: curiosity driven research gives a scientist the freedom to just follow own ideas, dreams and interests. A triviality? Actually not, given the fact that nearly all main breakthroughs in science were not planned. While the importance of curiosity driven research has to be emphasized, it is equally important to recognize when a discovery or a new technology opens the door to a new application – also outside of the academia. Prof. Lothar Willmitzer presents several examples where this transition has resulted in startup companies and will discuss typical constraints and problems.
Furthermore experienced founders of established enterprises will address relevant factors for successful start-ups and company financing. Scientists and transfer experts will present current exchange of best practice as well as and collaborative innovation development and transfer between research and business. In this year's Startup Pitch five pioneering founders from the capital region will present new products, services and solutions for the future. Between the sessions you will have the opportunity to meet the speakers and other experts related to your field of interest.
Nov 24th — 1:1 Networking Meetups
Add on: Expand your network! Use your conference feature to plan individual 1:1 meetups with interesting conference participants and potential cooperation partners for November 24. Get in touch with transfer experts who can support your process or connect to potential cooperation partners.

About the PSP Conference 2021
The PSP Conference 2021 is being organised by Standortmanagement Golm GmbH in the Potsdam Science Park and Potsdam Transfer, the central scientific institution for start-ups, innovation, knowledge and technology transfer at the University of Potsdam. Partners of the PSP Conference 2021 are the Potsdam Chamber of Industry and Commerce (IHK Potsdam), the Economic Development Agency (WFBB), the Brandenburg State Capital Potsdam, the Federal State of Brandenburg and the Fraunhofer High-Performance Center for Functional Integration.
The PSP Conference 2021 and the projects of Standortmanagement Golm GmbH in the Potsdam Science Park are financed by means provided by the European Fund for Regional Development (EFRE) and the Federal State of Brandenburg.
Registration and Agenda: https://psp-conference-2021.b2match.io/